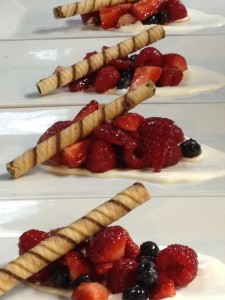 1 cup fresh raspberries
1 cup fresh blackberries
1 cup fresh blueberries
1 cup fresh strawberries, cleaned and quartered
1/2 cup creme fraiche
Cookie of your choice (included here is a shortbread cookie recipe)
Shortbread cookies
1 cup AP flour
¼ cup sugar
¼ tsp salt
1 tsp vanilla extract
½ cup (1 stick) chilled unsalted butter, cut into ½-inch cubes
1/2 cup demerara (raw sugar)
For shortbread cookies:
Preheat oven to 300F.
Whisk flour sugar, and salt in medium bowl to blend.
Add butter, vanilla extract and rub in with fingertips until mixture resembles coarse meal.
Gather dough together and form into ball; flatten into disk.
Chill for 30 minutes
Roll out dough on lightly floured surface to ½-inch-thick round.
Using fingers, press dough evenly over bottom to edges of pan.
Using tip of small sharp knife, score dough, then pierce all over with fork.
Bake until shortbread is cooked through and pale golden, about 45 minutes.
Using tip of sharp knife cut warm shortbread.
For berries:
In a large bowl, toss berries while continually sprinkling demerara over berries while tossing berries until well coated.
Let rest in bowl until sugar slowly melts and fruit becomes glossy.
Spread creme fraiche over bottom of plate, carefully stack berries on plate.  Garnish with cookie of your choice.