Butternut Squash Soup
Makes 8 servings (8-oz each)
2 medium butternut squash from your local farmer's market
2 medium red onions
2 tbsp butter
chicken stock to cover
4 parsley stems
4 thyme
10 black peppercorns
2 garlic cloves
2 bay leaves
3 tbsp kendall farms creme fraiche
2 tbsp cinnamon
1 tbsp nutmeg
1 tbsp clove
1 tsp cardamom
1 tbsp salt
1/2 cup brown sugar, packed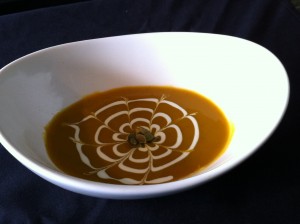 We use local butternut squash from Tuscarora Organic Growers, but butternut squash is easily available from many local producers.  Second, we use a creme fraiche from Kendall Farms in California that holds up well to being heated without breaking.  I've never tried with Vermont Butter and Cheese Creme Fraiche but I think it should probably hold up fine as well.  I would maybe cool the soup slightly before incorporating the creme fraiche.  Lastly, you need an excellent blender to give this soup the creaminess that we get a the restaurant.  A commercial VitaMix blender is what we use at the restaurant.
1.  Peel, then cut the butternut squash at the base of the neck.
2.  Firmly holding the bulb of the squash, cut in half and scoop out the seeds.
3.  Cut the bulb and the rest of the neck of the squash into 1-inch by 1-inch cubes.
4.  Slice the onions along the grain thinly.
5.  Wrap parsley, thyme, garlic, black peppercorns, garlic, and bay leaves in cheesecloth and tie tightly with kitchen twine.
6.  Melt the butter in a large stockpot, sweat the onions over low heat until they are translucent.
7.  Add the squash and coat with butter and onions.
8.  Cover with enough chicken stock to just come over the squash.
9.  Add cheesecloth with aromatics.
10. Bring to a simmer and simmer for 20 minutes or until squash is tender.
11. Remove cheesecloth of aromatics and discard.
12. Working in batches, ladle squash into blender and cover with enough liquid.
13. Leave an air gap in the cover of the blender to prevent hot soup from splashing out after blending.
14. Starting from low speed, move up to maximum speed slowly until soup is smooth.
15. After completing all of the squash, add creme fraiche, spices, and sugar, and whisk until incorporating.
16. Taste and adjust as necessary.